| | |
| --- | --- |
| Price: | $59.95 |
| Availability: | in stock |
| Prod. Code: | CHRISTMAS SILVER COINS |
THIS ITEM COMES WITH 100 FREE HOLY CARDS
To help celebrate Christmas, we are offering these beautiful 1 Troy Ounce .999 Pure Fine Silver Christmas Coins, & we expect them to sell out quickly.
These are not silver-plated coins, these are actual .999 pure refined fine silver - 1 full troy ounce of real precious metal.
To sweeten the deal, for every coin you order, you will receive 100 FREE Full Color Christmas Prayer Cards.
The FREE Christmas 3x4 inch holy cards are available in English & Spanish (choose language preference in drop down menu).
So for $59.95 you get 1 Troy Ounce of .999 Pure Silver & 100 FREE Christmas holy cards valued around $30.
Heirloom Quality Collector Coins To Last A Lifetime! These Will Make A Stunning Gift & Hold Value For Years To Come.
Coins measure approximately 1.5 inches in diameter.
Silver is a precious metal that has stood the test of time for thousands of years as a store of true monetary value.
Our coins are minted in the USA by one of America's best private mints & our holy cards are prayerfully printed in the USA!
Due to the inherent fluctuating costs of precious metals, our price for this limited edition collector item may have to increase based on market conditions.
Order now to lock in today's price. No coupon codes allowed on this product.
DUE TO POSTAL REGULATIONS, THESE COINS ARE LIMITED TO SHIPPING WITHIN THE UNITED STATES ONLY!
Email us if you have any specific questions: orders@CatholicPrayerCards.org
FRONT OF COIN: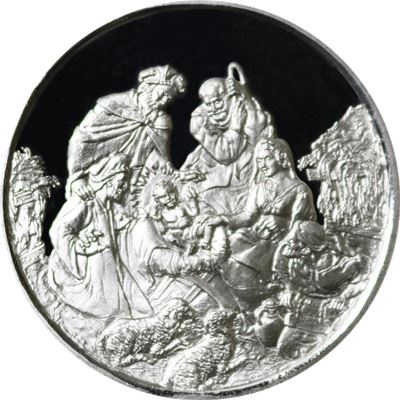 BACK OF COIN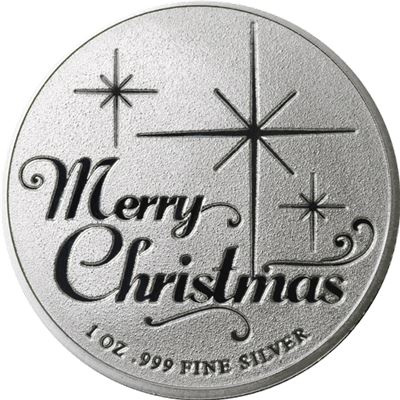 There is no black finish added to the coins, that just appears in the photos to show contrast.
With the seemingly endless money printing being done by the Federal Reserve & the U.S. national debt recently passing 30+ TRILLION dollars, there is significant concern among many citizens & a trend of diversifying some assets by converting dollars into precious metals. Click HERE to see the US Debt Clock
On top of all that, over the last few months, silver has been in short supply & high demand. Industrial users like cell phone makers, electric car manufacturers & solar panel factories have been trying to secure physical silver while investors all over the world are flocking to silver, creating a trending phenomenon called a #SilverSqueeze. That has sent the price of silver up recently. Many precious metals analysts see a bullish future for silver, with plenty of room for upward price appreciation. To find out more about what is going on behind the scenes in the silver markets, you may find this VIDEO very informative. Click HERE to view the video on silver.
We encourage you to entrust your finances to St. Joseph, who tirelessly worked to supply the needs of Jesus & Mary.
Regarding the FREE prayer cards, this is what the English cards look like:
Front of English & Spanish cards: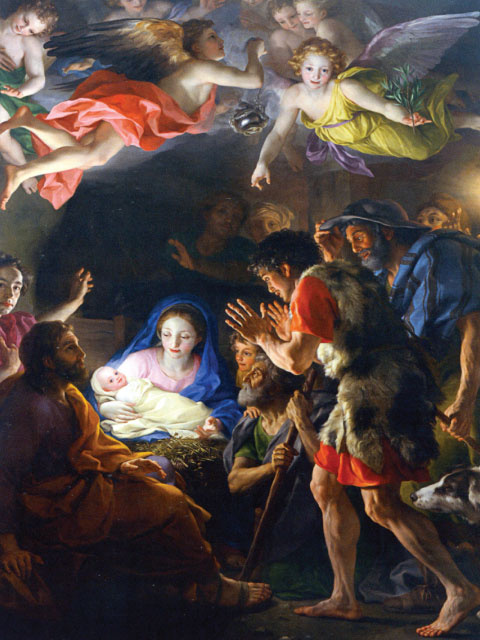 Back of English card:
...and here is what the back of the Spanish cards look like:
Note: actual coins will appear shinier than images shown due to lighting differences.
There is no black finish added to the coins, that just appears in the photos to show contrast.
Nothing published on this site is to be taken as financial advice.
We just want to make our customers aware of market trends we see that may be informative.
Due to the fluctuation of precious metal pricing, all sales are final & non-refundable for this item.

						
We ship all silver coins with a tracking number. If the carrier shows that your package was delivered we can take no responsibility for lost or mis-delivered parcels.
Commemorative Memorial Holy Cards & Medals Now Available for Pope Benedict XVI. Click HERE to View & Order.
To search for a particular item on our website, please use the search box below:
CatholicPrayerCards.org was recently featured on EWTN's "At Home with Jim & Joy" TV show
Click HERE or the EWTN banner below to hear our story and learn more about our Family & Mission :

Wish you could get high quality, yet inexpensive, customized holy cards personalized with your special prayer or image?
Click HERE to find out how easy and affordable it is to personalize our prayer cards .
+++
All images, prayer texts, graphic designs, printed materials and content of this site are
© 2023 Catholic Prayer Cards, LLC - Tallahassee, FL unless otherwise noted.