A great way to prayerfully celebrate the beatification of Blessed Pope John Paul II.
This Special ** SPANISH ** Edition Limited Release Commemorative Beatification card is in stock and ready to ship.
Quantities are limited so please order early and be sure to get enough, since these will only be available in small batch release.
For customized bulk orders please contact us at : orders@CatholicPrayerCards.org
Also available in other languages:
Click here for ->> ENGLISH
Click here for ->> POLISH
Front of SPANISH card: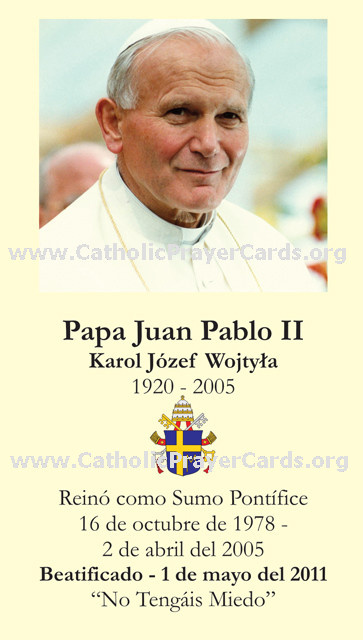 Back of SPANISH card:
Card measures 3.5x2 wallet size and is printed in the USA.
Wish you could get high quality, yet inexpensive, customized holy cards personalized with your special prayer or image?
Click HERE to find out how easy and affordable it is to personalize our prayer cards .
All images, prayer texts, graphic designs, printed materials and content of this site are
© 2013 Catholic Prayer Cards, LLC - Tallahassee, FL unless otherwise noted.
We are a member of the Catholic Marketing Network